Microbial Property Characterization
When SensiMedia microbiological test methodology is applied to obtain the growth characteristic of a microorganism, a characterization graph can be used. By changing the amount of composition in culture media, pH of it, incubation temperature or growth affecting parameter of such, characterization can be performed and the result will be expressed in a graph easily and precisely.
Characterization Example
Alicyclobaacillus acidoterrestris
Alicyclobacillus prefers and grows in strong acid at high temperature as 40 to 60ºC. For this reason, it is not easy to make this microorganism grow on an agar medium. SensiMedia is an enclosed type microbial detection tool and is suitable to provide the best growth environment for Alicyclobacillus. Using Biomatic VDCS, growth characterization of Alicyclobacillus acidoterrestris was performed.
Characterization is shown below. ATCC composition was used for liquid media.
While changing incubation temperature from 55℃, 50℃, 45℃, down to 40℃, and at each temperature the different dilution series sets of pH were tested. The pH of sample was varied from pH4.0(blue), pH4.35(brawn), pH4.7(light violet) to pH5.2(green). Vary the parameter this way and obtain the microbial growth graph.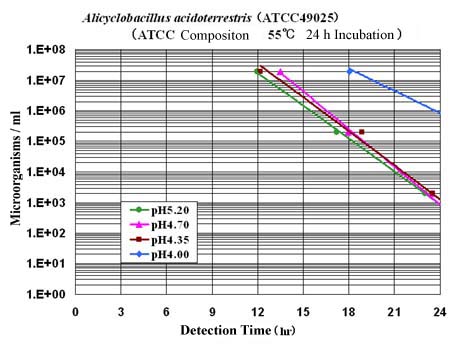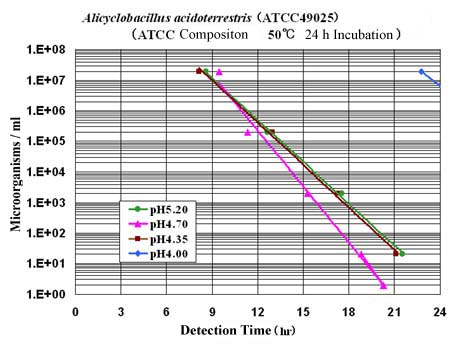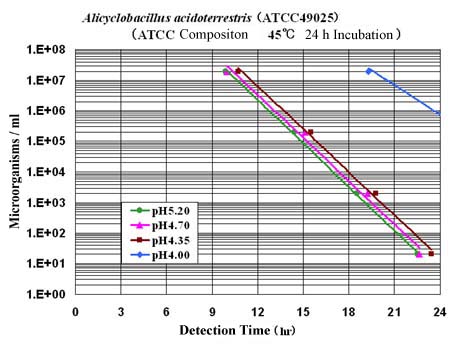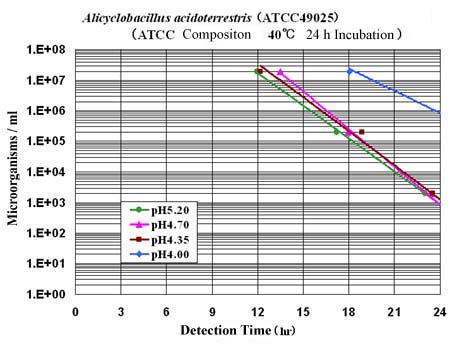 According to the characterization graphs, A. acidoterrestris perefers pH4.7 and 50℃ incubation temperature since it grows fastest in this condition.
Related Page
SensiMedia microbial detection kit based on liquid culture method requires no special equipment. The microbial growth can be expressed in a graph.
Precise evaluation of liquid culture media is achieved by SensiMedia with microbial growth.