Rapid Microbial Detection system (for SensiMedia)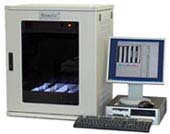 Qualitative Analysis
When a sample added SensiMedia (SM or SML series) is placed into a loading well and a test is started, Biomatic VDCS starts monitoring CO2 sensor of SensiMedia and if the presence of microorganisms is detected, it will send you an alert e-mail to let you know.
The system has the time mesuring function that checks negative or positive at every five-minute so that real time microbial detection is performed.
Many types of SensiMedia are available and membrane filter can also be used. The VDCS system is for SML or SM series.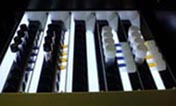 The VDCS accommodates 50 tubes that can be either SML or SM size. When SML test tools are used for detection, adapter blocks have to be used.
| | |
| --- | --- |
| Maximum load | SensiMedia (SM or SML) Total 50 tubes |
| Heating mechanism | Alminum heating block |
| Operating Temperature | from room temp +5ºC to +35ºC |
| Temperature Control | Microcomputer PID control, SSR |
| Temperature accuracy | ±1℃ |
| Temperature Sensor | thermocouple CA |
| Heater | silicon rubber heater 88W |
| Power Source | AC100V 50/60Hz |
| Power Consumption | 530VA |
| Size | 約 W500×H700×D600mm |
| Weight | 60kg |
Related Page
The MicroBio µ3D fully automates the traditional agar culture method to detect and count microbial colonies rapidly and precisely in microscopic level. It is useful for rapid viable count (SPC) and for rapid detection of coliform, food poisoning microbe such as salmonella, alicyclobacillus, mold and anaerobe.