Coliform in a 2ml-milk pour plate is detected rapidly and automatically !



Set pour plates and start a test !
Traditionally microbial detection is performed on a pour plate of a 1ml milk-sample manually. MicroBio µ3D AutoScanner does the same, taking the same plate, incubates it and detects coliform automatically at the stage of micro-colony growth level. Therefore, the sysem performs a microbial detection faster just by automating the traditional method. It can even test a pour plate of 2ml milk-sample accurately for the better detection probability.
When the presence of live coliform is detected, the system will send you an alart e-mail to your smartphone in real time.
Desoxycholate Agar Media (e.g. Pour Plate of a 2ml milk-sample)

Easy-to-use agar media to prepare a pour plate for 2ml sample is availabe from MicroBio (in Japan). Using 2ml sample pour plate, MicroBio µ3D automates a test and detects coliform rapidly with higher probability.
The following is the result of the example.
| | |
| --- | --- |
| Detection System | MicroBio μ3D AutoScanner |
| Standard Species | Escherichia coli (NBRC3972) |
| Agar Media | Desoxycholate |
| Sample Preparation | pour plate of a 2ml milk-sample |
| Incubation Temperature | 35℃ |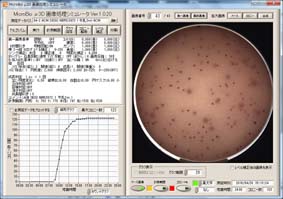 Related Page
Virus infected cells form plaques, and macrophage preyed bacteria form plaques. The plaque assay is a standard biological assay that counts and quantifies this plaque. MicrroBio μ3D collects data on the process of plaque formation during culture, allowing accurate plaque counting.
Nothing happens, but Negative is determined rapidly. Put a sample in it and incubate it. Microbiological test can be fully automated by Biomatic VDCS.
MicroBio µ3D AutoScanner automatically, rapidly and precisely enumerates Total Viable Count (TVC) of microorganisms on 100 plates at the same time while the Standard Plate Count media plates are being incubated. The example is the case of cut vegetable mix sample.
The presence of E. coli is checked by applying UV light to the SensiMedia for letting blue fluorescence emission after coliform is detected.
Membrane filter method is fully automated as a rapid microbiological test method. Each agar media plate with a filter can also be conditioned to anaerobic atmosphere.
Mold (fungi) and yeast colonies are detected and enumerated rapidly and automatically by MicroBio µ3D AutoScanner. The MicroBio PDA performs well for mold culturing.
A rapid detection kit is available. (e.g.) Alicyclobacillus in a sugar syrup sample can be screened for Alicyclobacillus and then checked for guaiacol production to confirm the presence of live A. acidoterrestris.
Rapid salmonella detection is easy for liquid, powder or solid sample. SensiMedia takes any form of sample: shape, color, form.
Exophiala is detected rapidly and automatically by MicroBio µ3D microbiological test system with MicroBio PDA.
Anaerobes such as Lactobacillus or Clostridium are detected rapidly and automatically by MicorBio µ3D microbiological test system.
Salmonella is detected rapidly and automatically by using MicroBio μ3D system with MicroBio Salmonella agar media, PPM001.
With SensiMedia aerobic detection kit, aerobes such as mold canbe detected faster and easily.
Clostridium in anaerobic atmosphere is detected rapidly and automatically by MicroBio µ3D microbiological test system.
For it is said that cocoa has antibacterial property, characterization was perfermed to find out how effective the property is, using a microbial growth graph.
SensiMedia is microbial detection kit to test samples and is available to detect food poisoning microbes: Salmonella, Staphylococcus aureus, O157, Bacillus cereus, Listeria.