Rapid Alicyclobacillus Detection made easy !


Add sample and incubate it !
For quality control purpose, A. acidoterrestris should be detected and screened form food products. To catch A. acidoterrestris is the main concern since not all of Alicyclobacilli produce guaiacol, and thus not all species are of spoilage concern.
Use SensiMedia to screen Alicyclobacillus in a sample and if positive, then verify whether or not guaiacol is in it. Rejet only guaiacol positive lot.

SM012 Alicyclobacillus Detection
To detect Alicyclobacillus, SensiMedia SM012 is very effective.
When the microbe is detected, follow the procedure SM012 to verify Alicyclobacillus acidoterrestris is detected.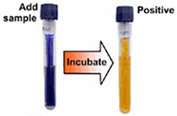 1) Add 1ml of sample to SensiMedia.
2) Incubate SensiMedia at 50 degrees C for 24 hours.
3) If Alicyclobacillus positive, then verify guaiacol production.
4) Reject only guaiacol positive lot.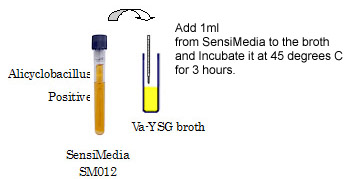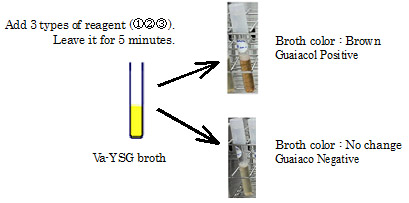 MicroBio Culture Media and MicroBio μ3D for rapid automated detection !
Related Page
Virus infected cells form plaques, and macrophage preyed bacteria form plaques. The plaque assay is a standard biological assay that counts and quantifies this plaque. MicrroBio μ3D collects data on the process of plaque formation during culture, allowing accurate plaque counting.
Traditional pour-plate method is used for the detection of coloform in seemingly impossible 2ml of milk-sample. Coliform can be detected faster in real time automatically by MicroBio μ3D AutoScanner.
Nothing happens, but Negative is determined rapidly. Put a sample in it and incubate it. Microbiological test can be fully automated by Biomatic VDCS.
MicroBio µ3D AutoScanner automatically, rapidly and precisely enumerates Total Viable Count (TVC) of microorganisms on 100 plates at the same time while the Standard Plate Count media plates are being incubated. The example is the case of cut vegetable mix sample.
The presence of E. coli is checked by applying UV light to the SensiMedia for letting blue fluorescence emission after coliform is detected.
Membrane filter method is fully automated as a rapid microbiological test method. Each agar media plate with a filter can also be conditioned to anaerobic atmosphere.
Mold (fungi) and yeast colonies are detected and enumerated rapidly and automatically by MicroBio µ3D AutoScanner. The MicroBio PDA performs well for mold culturing.
Rapid salmonella detection is easy for liquid, powder or solid sample. SensiMedia takes any form of sample: shape, color, form.
Exophiala is detected rapidly and automatically by MicroBio µ3D microbiological test system with MicroBio PDA.
Anaerobes such as Lactobacillus or Clostridium are detected rapidly and automatically by MicorBio µ3D microbiological test system.
Salmonella is detected rapidly and automatically by using MicroBio μ3D system with MicroBio Salmonella agar media, PPM001.
With SensiMedia aerobic detection kit, aerobes such as mold canbe detected faster and easily.
Clostridium in anaerobic atmosphere is detected rapidly and automatically by MicroBio µ3D microbiological test system.
For it is said that cocoa has antibacterial property, characterization was perfermed to find out how effective the property is, using a microbial growth graph.
SensiMedia is microbial detection kit to test samples and is available to detect food poisoning microbes: Salmonella, Staphylococcus aureus, O157, Bacillus cereus, Listeria.