Fine Culture Media (Agar media, Liquid media, Dehydrated media, etc.)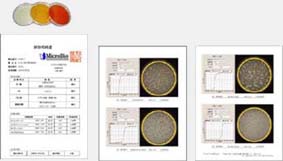 We provide culture media tuned for detecting target microbes. Our media were developed by using our automated MicroBio systems that provide media performance graph.
Advantage
Our media are scientifically formulated.
Using MicroBio systems, precise quality control tests are performed on culture media products.
Media performance graph is attached to the QC test report of each lot.
Fine culture media [Page List]