MicroBio µ3D Microbiological Test System (for Agar Culture Media)



Quantitative (Qualitative) Analysis
The MicroBio µ3D is a microbiological test system based on Time-lapse Shadow Image Analysis. While incubating agar plates as traditionally we do, the system monitors agar plates in certain time interval and detects colonies in microscopic size and counts rapidly, accurately and automatically.
The enumeration graph is provided in real time during incubation process.
Sales Distributor : BD Japan web page (in Japanese)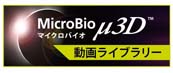 MicroBio µ3D AutoScanner Specification
| | |
| --- | --- |
| Principle of detection | Time-lapse Shadow Image Analysis |
| Detection target | Bacteria, yeast, fungi |
| Test capability | 100 plates |
| Culture control/temperature | Room temperature + 5 ºC–55 ºC (PID control) |
| Measurement environment | 15–30 º C, 20–80% (no condensation) |
| Electric rating | 100, 50/60Hz, 20A |
| Weight | 280 kg |
| Main unit dimensions | 175 cm (height) x 80 cm (width) x 70 cm (depth) |
| Software | MicroBio μ3D™ AutoScanner software |
| Accessories | Control PC, PC monitor, software |
MicroBio µ3D Main Panel
The figure bellow shows tha main control panel. Clicking a tab to select the inteted control function or display.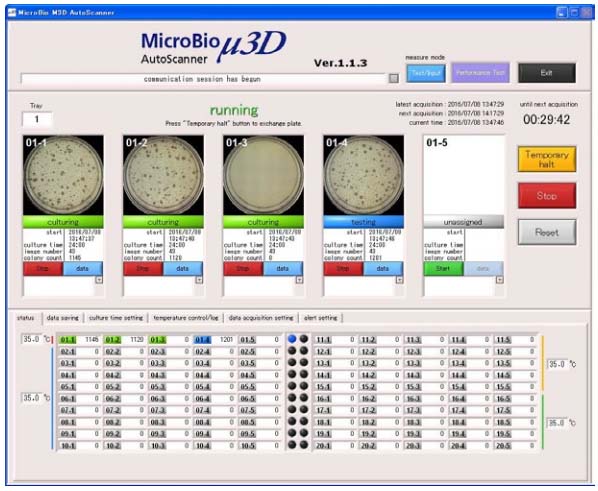 Detection Performance
The following figure shows a detection and count example of poured Desoxycholate agar plate of E. coli sample. The system completed the detection and count at 8.5h.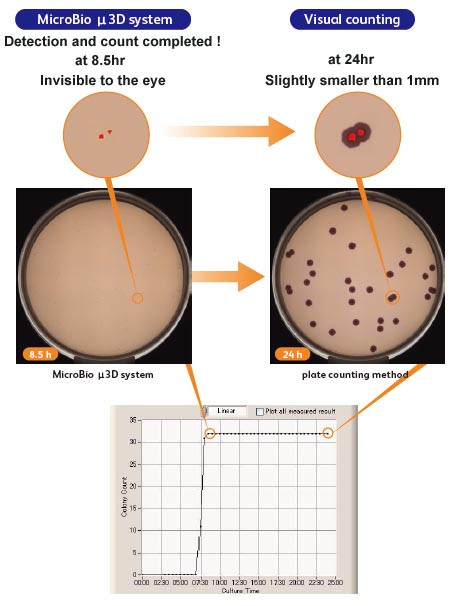 Observation of Micro-colony 3D Shadow Image
The 3D shadow image of micro-colony can be observed by clicking the detected colony to display in 3D coordinate. The image can be rotate in 360 degrees along with either X, Y or Z axis.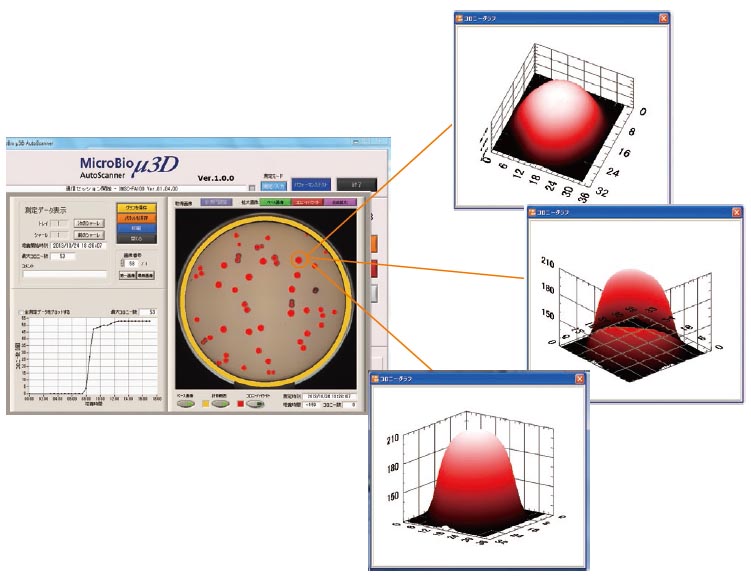 Related Page
Biomatic VDCS is a fully automated rapid microbial detection system for SensiMedia. It is useful to detect coliform, food poisoning microbe such as salmonella, lactobacillus, yeast and alicyclobacillus. It is also useful to evaluate performance of liquid media.